Tariff zones, regions & fare categories
Tariff zones, cells and short journeys form the basis for calculating prices in the network area. A tariff zone generally comprises a city or several small towns / districts and is constituted of one of more cells. Each connection within the VRR area is allocated a price category. In addition to short journeys there are the price categories A, B, C and D. Children under the age of seven generally travel for free. Discounted ticket prices are available for children from the ages of seven to 14.
VRR operating area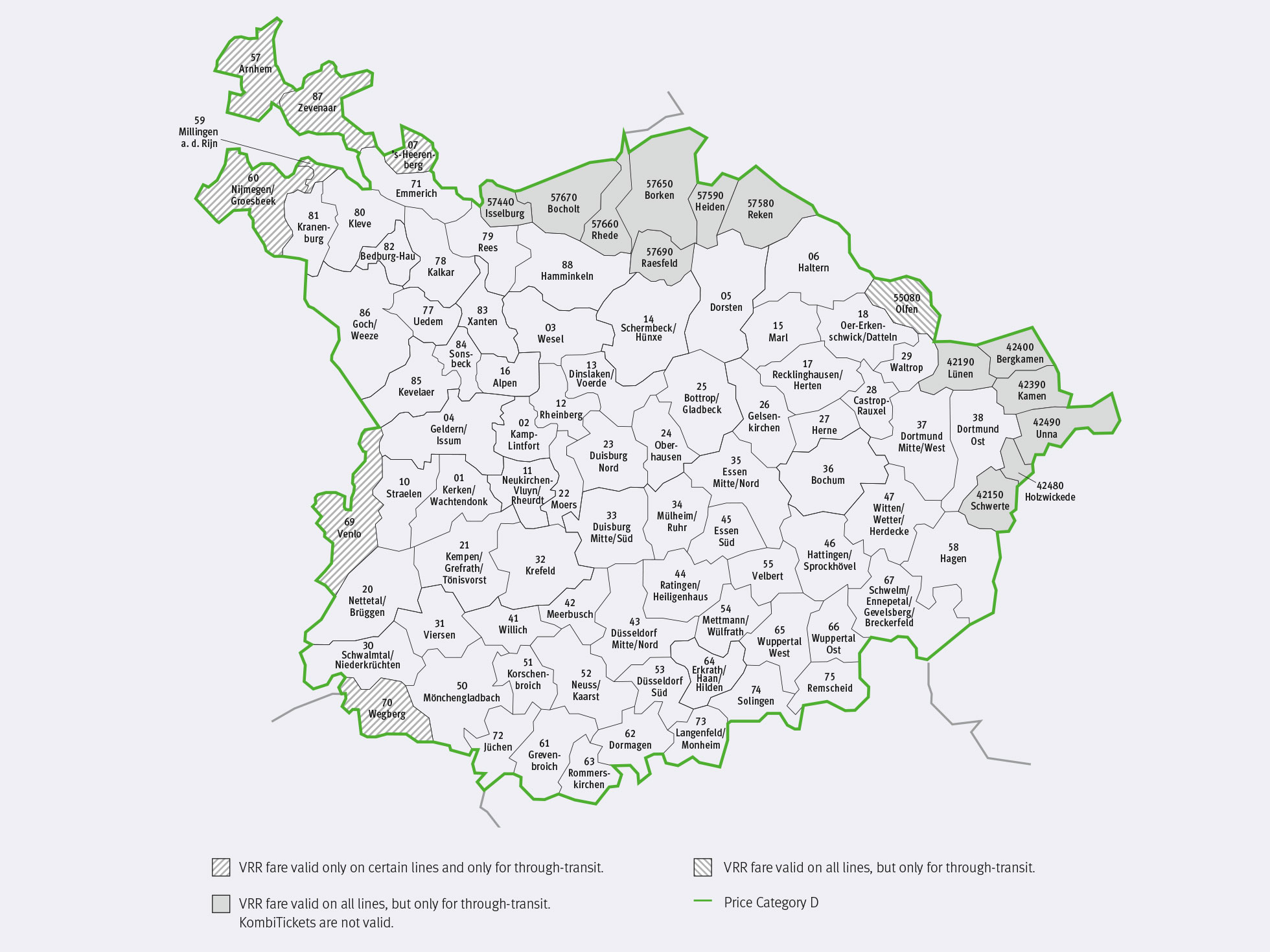 VRR fare categories
Short trips
With a Kurzstrecken-Ticket (short trip ticket) you can generally travel up to three stations or 1.5 kilometres away. They are valid for 20 minutes from the time of validation, and are exclusively for direct trips. You may only use short trip tickets in buses, trams and underground railways (U-Bahn), however not on regional express trains (RE), regional trains (RB), or urban railways (S-Bahn).
Fare category A
Fare category A is generally valid for trips within a city or town.
A1 in smaller cities and towns
A2 in eleven larger towns and cities with good public transport networks: Duisburg, Gelsenkirchen, Hagen, Herne, Krefeld, Mönchengladbach, Mülheim, Neuss/Kaarst, Oberhausen, Remscheid, Solingen
A3 in five large cities with very dense and high-quality local transport service: Bochum, Dortmund, Essen, Düsseldorf und Wuppertal
Fare category B
In fare category B, select a central fare zone from which you can travel into the directly adjacent fare zones. Note that the central fare zone does not need to be the fare zone in which you reside.
Fare category C
Fare category C covers moderate travel distances. You can choose between 19 different regions within the VRR network.
Fare category D
With tickets of fare category D, you can travel anywhere within the entire VRR network.