The ticket for job and leisure
Ticket2000 lets you travel comfortably by bus and train. No matter if to your job or for leisure.

To your ticket in 2 steps
Complete the application
Submit your subscription request
It's more than just a ticket
Ticket2000 is your all-round carefree package for bus and rail. In addition to unrestricted use of public transport, you can also benefit from a range of attractive additional services. These include, for example, taking along a bicycle or, if desired, transferability of your ticket.
Overview of the advantages of Ticket2000:
Area of application freely selectable

Up to 5 people can travel throughout the VRR from 7 p.m. on weekdays and around the clock on weekends and bank holidays. Up to 2 of these, including the holder, may be older than 14 years of age

Take your bike with you free of charge within the area of validity of your Ticket2000. Save 3.60 euros this way.

If you are more than 20 minutes late, you are eligible for the mobility guarantee.
How much is it?
The Ticket2000 is available as a monthly pass or as a low-cost subscription, alternatively with validity from 9 am as an even cheaper option. Choose the option that suits your needs best. Your Ticket2000 subscription can be terminated at any time. The monthly pass and the Ticket2000 as an online 30-day ticket with flexible start date have the same price.
Our recommendation
| Price level | Ticket2000 Abo |
| --- | --- |
| A1 | 71,71 € |
| A2 | 75,93 € |
| A3 | 79,21 € |
| B | 110,76 € |
| C | 145,99 € |
| D | 182,61 € |
| Price level | Ticket2000 |
| --- | --- |
| A1 | 80,80 € |
| A2 | 85,55 € |
| A3 | 89,25 € |
| B | 124,80 € |
| C | 164,50 € |
| D | 205,80 € |
| Price level | Ticket2000 9 Uhr Abo |
| --- | --- |
| A1 | 53,65 € |
| A2 | 56,53 € |
| A3 | 58,93 € |
| B | 84,40 € |
| C | 109,92 € |
| D | 138,55 € |
| Price level | Ticket2000 9 Uhr |
| --- | --- |
| A1 | 60,45 € |
| A2 | 63,70 € |
| A3 | 66,40 € |
| B | 95,10 € |
| C | 123,85 € |
| D | 156,10 € |
Ticket variations

Subscription ticket
The subscription reduces the price for the Ticket2000. Always have your ticket at hand, with the option of terminating it at any time.

Monthly pass
Buy your MonatsTicket monthly pass every month at your transport company's sales office. Please refer to this document for the validity of the monthly passes.

30-TageTicket
The 30-TageTicket lets you decide when your ticket's validity period begins. It is not bound to any specific calendar month, but it will be valid for exactly 30 calendar days from a starting day, including the start and end day, respectively. The purchase date is the earliest possible starting date. The ticket is only available as a personal ticket. It has the same additional services and costs the same as the Ticket2000. As the 30-TageTicket, it has the same price as the 9 a.m. Ticket2000 as a monthly pass in the respective fare levels. You can get your 30-TageTicket in the VRR app and the apps of the transport companies.
Termination possible at any time
Your Ticket2000 subscription can be terminated at any time. If the ticket does not suit you and your mobility needs, you can simply terminate it by the 15th day of a calendar month at the end of the month. If you terminate it before the end of the first 12 months of a subscription, a flat fee of 20.00 Euro will be charged. After the first 12 months, termination will be entirely free of charge. The period of notice as of the 15th of a calendar month for termination at the end of the month shall, however, continue to apply.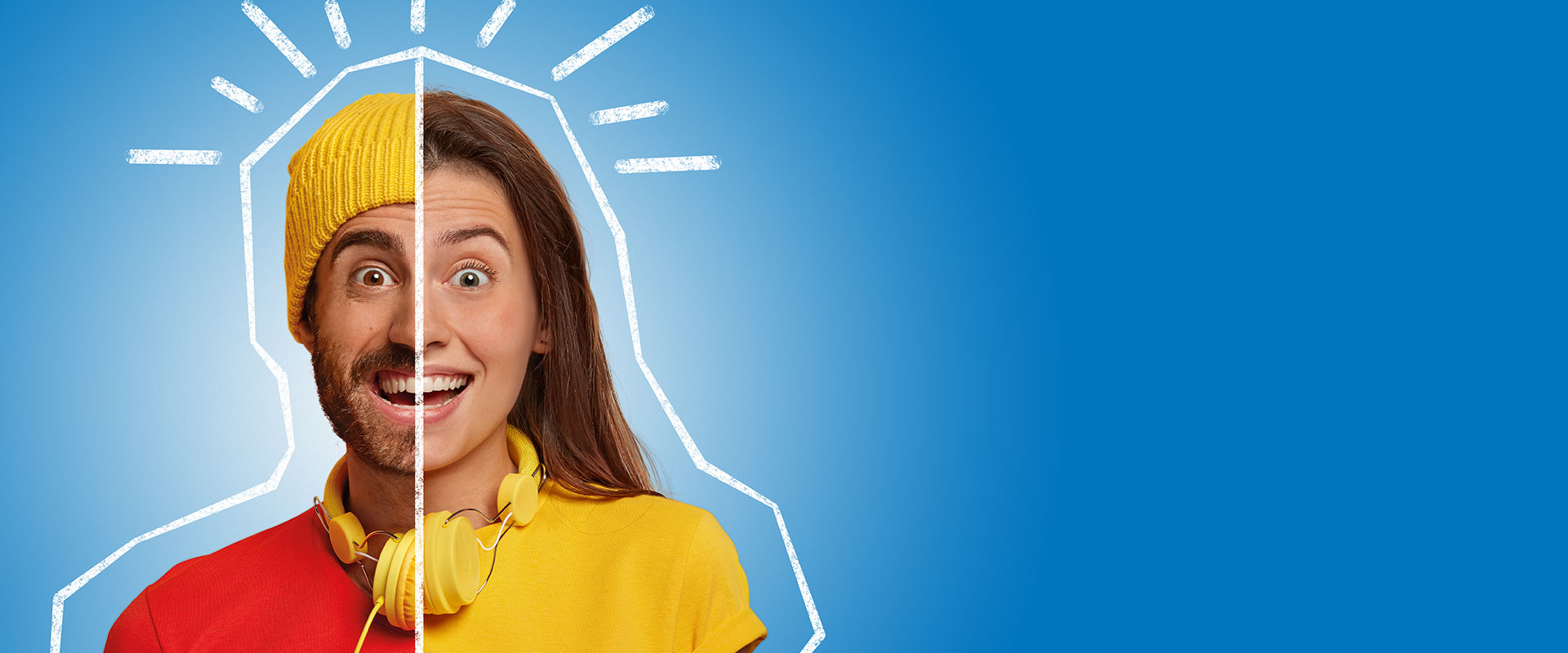 Who it's for
Commuters and professionals
Families
Couples and people with frequent companions who also like to share their tickets
Leisure travellers
Frequent travellers
Mobile in the VRR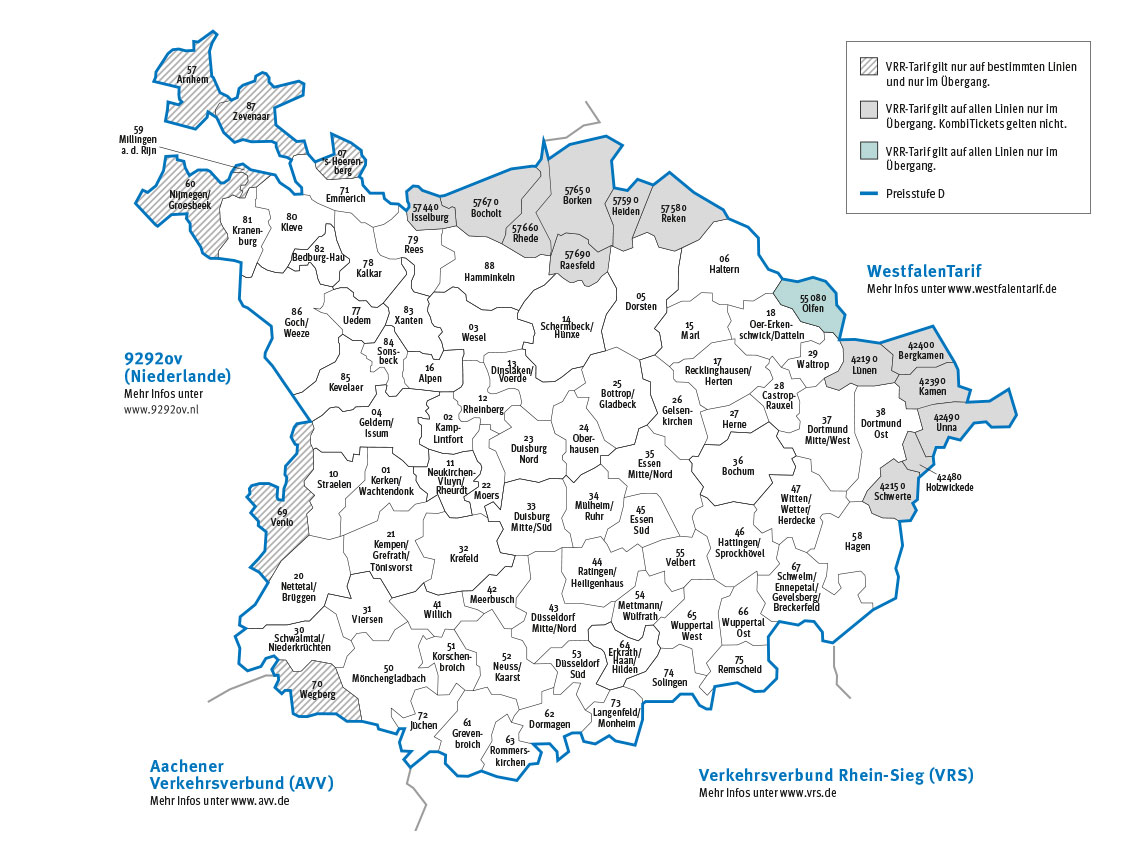 The fare level is a decisive feature when travelling with your subscription ticket. The fare level defines the area of validity of your ticket within the VRR area and is divided into fare levels A (A1, A2, A3), B, C and D.
Fare level A is usually for journeys within a city, with the size of the city and the service indicating whether you need fare level A1, A2, or A3.
Fare level B lets you choose a central tariff area from which you can then additionally travel at least to the directly adjoining tariff areas. Remember that the central tariff area does not have to be the tariff area in which you live.
Fare level C covers medium travel distances. You can choose from 19 different regions in the interconnected area.
Tickets on fare level D let you travel anywhere in the entire network area.
Click now and learn more about tariff zones, regions, and fare levels in the VRR! You can also request advice at the nearest sales offices in your area!
Travelling beyond the VRR